3-way link exchanges (or ABC link exchanges) are becoming more common among SEOs. While it is usually considered a black hat tactic, as Google discourages link schemes, it is a widely used tactic to consistently build a lot of quality links for your website, fast!
However, a study by Ahrefs on reciprocal links shows 43.7% of top-ranking pages have some reciprocal links.
Search Engine Optimization (SEO) in the age of AI is more competitive than ever before. With more established and authoritative websites dominating the SERPs, a newer competitor needs more links to reach the top results, or increase its domain authority enough to make an impact.
Authority will play a huge role also with the launch of Google's Search Generative Experience (SGE)
ABC link exchanges can multiply the efforts of guest posting and other link-building activities, thus, making them the go-to way to generate more links quickly.
What is a 3-Way Link Exchange?
A three-way link exchange is when website A links to website B in exchange for a link from website C, thus avoiding a direct link which is discouraged by Google.
Instead, they use an intermediary website to avoid raising any red flags to Google. This is why it is also called an ABC link exchange. Here is an example of an ABC link exchange:
Website A (your website) links to Website C
Website B reciprocates the link to Website A
3-Way Link Exchange is also often called ABC Link Exchange as shown in the image above, as there are 3 websites involved A, B, and C exchanging the links without directly linking to each other.
P.S.: You can download my link-building exchange template to skyrocket your link-building efforts!
There are multiple ways to implement this tactic. Here are a few examples:
Example 1 – A second website
A website owner or SEO might operate multiple websites, offering a link from one and requesting a link to the other.
Example 2 – Guest posts
Bigger teams of link-builders write a lot of guest posts every month. A guest post can have multiple links to the writer's website but also mention multiple partners, then they use these links to ask for a reciprocal link. This is also my preferred way of doing it.
Example 3 – The network
This is especially true for agencies working with multiple clients for link building, they create a network and manage links between those websites and external partners.
The Price of Links
Link-building is 2-3 times more expensive today than 5 years ago. This is the reason SEOs work to scale up their efforts, especially those with a link-building or guest-posting team in-house.
Link placements to low-quality websites start at $100 and the average price for a medium-quality website (DR50-60) is around $300-$400.
Agency contracts that build good quality links start at $3000 per month and require a minimum of 3 or 6 months contracts to start working with you, and that's for 10 links per month.
Imagine trying to build a few hundred links for your website? This will cost you 5-6 figures.
Here is today's cost of backlinks, but, be aware that link-building agencies are already increasing their prices since early 2023 and the costs are going up.
The Benefits of ABC Link Exchanges
ABC link exchanges can scale your link-building efforts by 2-5 times (sometimes even more), by taking advantage of your team's guest posting or a network of websites.
Normally, if your team writes 10 guest posts per month, this means 10 links for your website.
Now, consider giving 3 links per article (on average) to partners in an ABC exchange. You get 10 links from the publishers and you are owed 30 links from partners.
ABC exchanges are also harder to trace back as exchanges. That said, Google still might be able to recognize and penalize this tactic.
The Dangers of Link Exchanging
Google discourages excessive link swapping and suggests that a website can be impacted negatively (Source). This can be anything from losing SERP results or a manual penalty.
However, link exchanges are natural, as companies or bloggers work together. What Google doesn't like are excessive exchanges, and large-scale efforts to attract a lot of unnatural, out-of-context links. This is a black hat tactic.
While this tactic makes it more difficult to recognize a backlink exchange, it's possible for Google to recognize a pattern. What happens then?
The best-case negative scenario is Google ignoring the links you have built using this method, meaning you have lost a lot of time and energy for nothing.
The worst-case scenario here is a manual action that will take your whole website out of the SERPs.
How to Do 3-Way Link Exchanges?
Link building is the bread and butter of any SEO professional, and building links to increase your website's authority is important.
Swapping links might be discouraged by Google, but it's also a common practice and can scale up your efforts.
Always Build Quality Backlinks
Before reading further on how to set up an ABC link exchange partnership, be sure to always follow the A.R.T. framework for high-quality links.
Every link to your website should be:
Authoritative,
Relevant, and
Trustworthy
Authoritative: The website is an authority on the topic. It is a combination of factors including the age, trust, popularity, and quality of links of the website, as well as its ranking for keywords in a relevant topic. While DR and DA metrics from Ahrefs & Moz respectively are good indicators, it's not a direct measure of authority.
Relevance: The website is relevant to your industry or niche. This comes from what content the site is writing about and the keywords it is ranking about. Also, keep in mind the context of the link, out-of-context links will be ignored or may hurt your SEO efforts.
Trustworthiness: Trust comes from many factors including the legitimacy and accuracy of the content. Other trust signals to a website would be a clean and easy UI/UX, the author's expertise, or the company behind it. You would trust an article on drugs from a doctor, but probably not from an accountant, right?
Create a Process & Manage Partnerships
ABC exchanges are all about building partnerships and managing them. You need to find trustworthy partners you can work with.
As they are more complicated than simple backlink exchanges, they require some project management skills to track and manage. Creating a spreadsheet is always a good idea:

Example of a link-building tracking on Google Sheets
Create a process around the collaboration and track which links you have given and which ones you have received. This will make it easier to manage and less time-consuming.
Build Relationships in Your Industry
The first place to look for partners would be your industry or niche. That might be friends or business partners. Reach out to everyone you know who actively pursues SEO for their website.
Be sure you are reaching out to partners that manage quality websites. They might have a similar Domain Ranking / Authority as you, but that should not be your only criterion. Ensure they also follow the A.R.T. framework when building links.
Avoid shady partners and outreachers without a business email. Working with the wrong people may backfire!
Reach Out to More Partners
To grow your network of partners, you will need to go further than your current network. Find partners in complementary industries and non-competitive niches with yours.
For example, if you are writing about office supplies, it might be another blogger writing about software for businesses or a supply vendor.
You can reach out to SEOs, bloggers, marketers, or webmasters. For bigger companies, if they are not the right person, they can point you to someone within the company doing link-building.
Showing them examples of your guest posts, explaining the process, and what to expect is a great way to start, even if you are cold outreaching.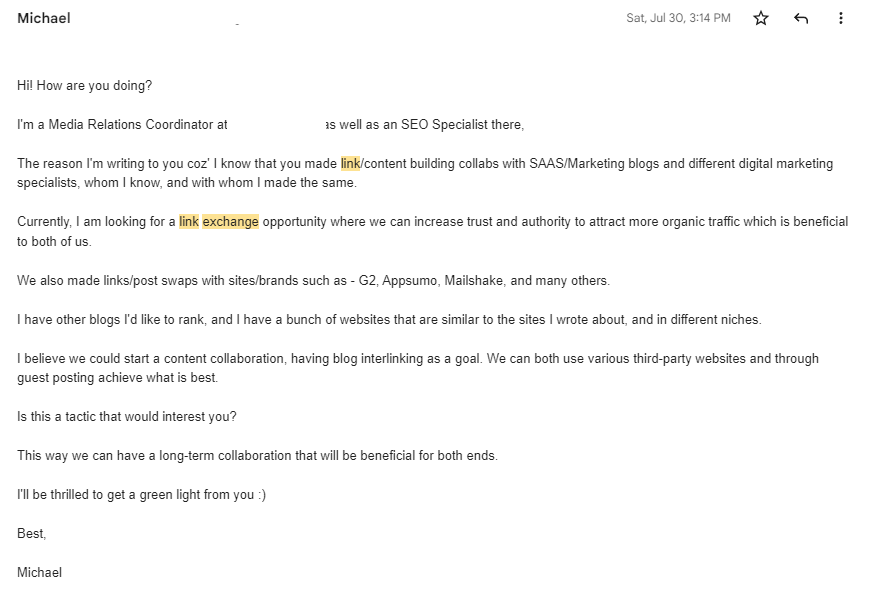 A good example of an email reaching out to get more partners
You can read how to write a great link-building email in my guest post at SaaSmatic.
Using a Secondary Website
If you already maintain multiple websites, you can use a second or a third website to offer a link and request one back to your main website.
This is the simplest way to engage in 3-way link building. In this case, all you need is to set up an automated cold outreach email sequence, and then it's a case of reaching out to enough people to reach your quotas!
Natural Links
Now, I really want to go into natural links for a while. It's important to understand what are natural links and how they occur in nature (pun intended).
I have already mentioned twice that Google discourages large-scale exchanges, and specifies it with the word excessive. This is because direct links occur naturally on the web for many reasons.
If direct linking from one page to another was penalized, then, most of the web would have manual penalties from Google and the web would be a poorer place.
It makes sense for two websites to link to each other in some cases. It's a natural part of doing business or just being online.
Here are a few cases where natural direct links occur:
Business partnerships: Vendors linking suppliers and vice-versa, software integrations, cross-promotions & offers, etc.
Blogging: Bloggers may collaborate on writing, and mentioning each other, especially if they work in similar niches or occasionally collaborate on content and webinars.
Groups of companies: Being in a group of companies you might occasionally mention other websites in the network. It's part of the same company/family. Think of Walt Disney which owns Star Wars. It makes sense if Star Wars mentions the parent company and vice-versa.
Big websites: Some of the top websites in the world cover almost any topic, include directories, and millions of links to other websites. It makes sense if CNN mentions your company, and you include the mention in your media section, or even cite an unrelated article of CNN from your blog.
So, if natural links exist, how would Google figure out the bad apples and penalize them?
There are dead give-aways and patterns created with excessive linking which might be hard for humans to catch, but Google's machine learning algorithm that crawls the whole web can catch up.
P.S.: Read how much do backlinks cost today!
Avoid These Link-Building Bad Practises
Here is what to avoid when building a lot of links:
Repetitive anchor texts
Out-of-context links
Many links pointing to the same article in a short time
Too many direct exchanges at the same website in a short time
Excessive linking to brand new articles (internal links are excluded)
Link from low-quality / spammy websites
Links from pages with hundreds of links for the purpose of link exchanges
In short, think of what would be the real pattern of linking to an article.
Content writers usually link to the first few articles in Google search, after it's being indexed.
Each writer might link differently, and not an SEO-optimized anchor text (especially the same one across multiple websites).
If your article is not about a trending topic, it would be unusual to get dozens or hundreds of links in a week or a month. This can be a red flag.
If the page you are building links is about cat food, it doesn't make sense to show up on a website for office supplies. This link might not offer any value!
Scaling Link-Building is a Natural Process
Link exchanges are a natural part of the web and while many consider them black hat practice, they are not!
What Google considers bad practices are:
excessive,
spammy,
out-of-context, and
unhelpful link exchanges …
… with the only purpose to build massive amounts of links.
You can scale your link-building efforts with both direct and 3-way link exchanges. Keep evaluating each opportunity and keep the process up to quality standards and relevant.
What do you think of ABC link exchanges?
Frequently Asked Questions – FAQs
What is a 3-way link exchange?
A three-way link exchange is when website A links to website B in exchange for a link from website C, thus avoiding a direct link which is discouraged by Google.
What is a 2-way link exchange?
Two-way link exchange is a direct link exchange, where two websites agree to link to each other through collaboration. It could be a content collaboration, guest post exchange, or simple link placements.
Are link exchanges bad for SEO?
There is no consensus on whether link exchanges are good or bad for SEO. Google discourages excessive link exchanges, but not all exchanges are to be avoided as they are a natural part of the internet.
Are link exchanges good for SEO?
There is no agreement on the effectiveness of link exchanges for SEO. Link exchanges are commonplace on the web, and Google only discourages excessive and spammy link-building.
Can Google detect 3-way link exchanges?
It is difficult but not impossible to detect 3-way link exchanges. Even if Google cannot detect or infer link exchanges now, it might happen in the future and websites might be penalized for it.
The purpose of a 3-way link exchange is to avoid detention and make the link seem natural. Thus, it makes sense that you evaluate every link placement to naturally fit in the article context.
Out-of-context links are easier to be traced than links that fit the narrative of the articles they are placed into.
What is link swapping?
Link swapping takes place when two website owners agree to link to each other. Either through a content collaboration, guest post exchange, or link placements.
Does Google penalize link exchanges?
In some cases yes! Google penalizes excessive link exchanges. The penalty may vary from ignoring the links or a manual penalty removing a website from search results.